M7500
The DOUBLE-SIDED marten-repellent device
Martens, cats and other animals like to run over bonnets and car roofs. At best, the animals leave just harmless, light footprints, but sometimes they leave excrement and ugly scratches too. However, normal ultrasonic deterrents only radiate in or under the engine compartment to prevent the biting of cables and hoses. But with the M7500 the whole bonnet can become a loudspeaker, for example.
The ultrasound is transmitted as vibration directly to the metal and penetrates both from above into the engine compartment and outwards. An extremely loud, pulsating warning sound is generated, which, at 110 dB, is as loud for the animals as standing on the platform while a high-speed train rushes through the station. Stand back! The M7500 emits this clear ultrasonic signal (which is inaudible to humans) to martens, cats etc. through the metal of the car. You can say goodbye to animal tracks on the paint and bitten antennas.
Product features
Pulsating sine ultrasound Our marten-scarers mimic the warning calls of the animals in a very loud and highly lifelike way. This serves to prevent the habituation effect.

Waterproof 2.0 Fully sealed, waterproof electronics in accordance with the IP 65 standard and (for devices with ultrasound) a fully enclosed speaker allow the device to be installed low down, including in areas where there may be splashing water. Even washing the engine is not a problem.

180° waves Ultrasound waves spread forward light, i.e. the sound is barely perceptible behind obstacles or from the sides. The special way in which the loudspeaker is designed and placed means that the aggressive ultrasonic sine tones are emitted in a beam angle of 180 degrees.

CAN bus The electronics of modern vehicles communicate internally via a so-called CAN bus. Even in this environment, our devices can operate without any difficulty.

Hybrid-compatible Our devices can also be easily installed in hybrid vehicles.

E1 mark The E-1 sign confirms that the device has been tested by the Federal Motor Transport Authority (KBA).

Acid-proof, self-extinguishing plastic The device is resistant to acids (e.g. batteries or cleaning agents) and the plastic used meets automotive industry safety standards.
Installation
Der Ultraschallschwinger mus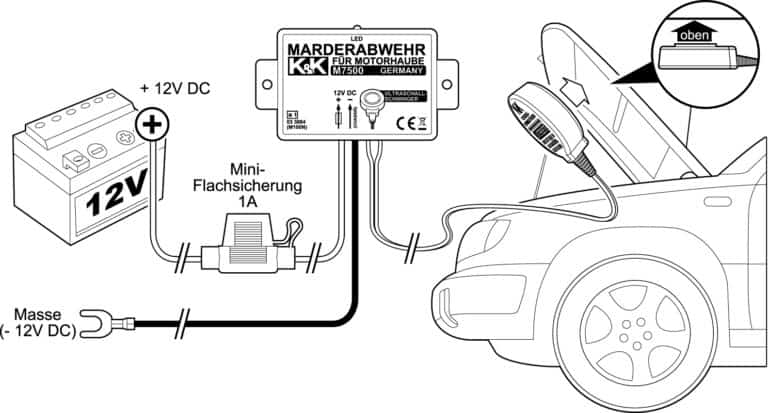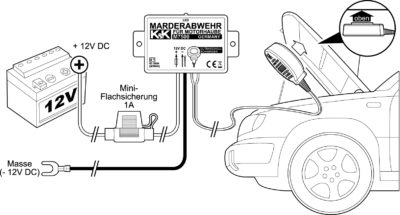 s direkt von unten auf das Blech der Motorhaube geklebt werden (oder unter das Dachblech oder das Blech des Kofferraumdeckels). Es muss ein direkter mechanischer Kontakt zwischen dem Ultraschallschwinger und dem Blech bestehen, da sonst kein Ultraschallton übertragen wird (daher Dämmungen, Gummibeschichtungen und ähnliches Isoliermaterial an der Montage-Stelle entfernen). Die Seite mit dem kleineren Teller (Ø ca. 30mm) des Ultraschallschwingers wird an das Karosserieblech geklebt. Weitere Einbauhinweise entnehmen Sie bitte dem Einbau-PDF!
Additional documentation