K&K and a short history of marten damage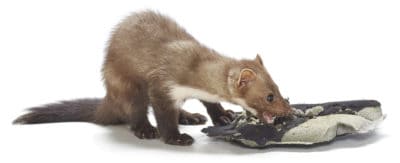 Did you know that marten damage is a relatively new phenomenon in the eyes of the public? It was not until 1978 that the first case was found in a car in Switzerland. From that point onwards, the once rare stone marten went on to spread throughout Germany over a period of about fifteen years. Today it can be found nearly all over Germany. The first cases occurred in the Munich region in 1979, but by 1995 there were also cases in Kiel. The number of cases of marten damage soared to several hundred thousand per year and that was the last straw for motorists: After all, it wasn't just frustration they had to deal with – they also had to bear the financial burden caused by the damage. Depending on their policies, even those with insurance were left in the lurch when it came to consequential costs for engine defects, etc.
Supposed insider tips like toilet deodorisers, dog hair and rabbit mesh on the floor do not have the desired effect. This has been proven in practice as well as in various research projects and studies, such as those of the Wildlife Biology Working Group at the Justus Liebig University in Giessen. This has led to the need for an effective and modern method of marten defence. However, for reasons of animal and species protection, the animals could not be harmed As a result, K&K was founded at the end of the 1980s and soon made a name for itself with ultrasound devices and injury-free high-voltage defence.

Nicole and Gerd Schuster have been managing the company since 2003. Long-term customer relationships based on absolute satisfaction are the top priority for the family-run company.
There are no such things as obstacles, only challenges!
Developing the wheel of the wheel involved thousands of continuous improvements. Without them, no other technical component would ever have been developed to perfection. Marten defence is no exception. This in itself entails ever-changing demands. K&K is therefore driven by an inner restlessness that could also be described as an innovative spirit. Our goals and inspirations are what drive us as a company, even more than what we are proud to have created thus far. The appeal grows with the challenge.
For example: For a long time, we thought it was better to scare away the marten before it got into the engine compartment instead of having to do the difficult job of chasing it out of there. However, the animals enter through the underbody, so conventional ultrasonic speakers and contact plates could not be used due to the splashing water. So, figuratively speaking, we took up our diving positions, and were inspired by sonar systems from submarines. The result was a completely waterproof dome speaker, perfectly complemented by hard-wired electronic controls.
Innovations and no end in sight
The marten's fur is extremely thick and protects it, at least partially, like an armour against electric shocks. Conventional high-voltage systems therefore aim at the sensitive paws or snout. Our innovative antidote is the multi-contact high-voltage brush. These glide like a comb through the coat of the marten and make contact directly with the skin.
We are always faced with new challenges from customers too. For example, a renowned automobile manufacturer stated in their specifications that the high-voltage defence had to be switched off immediately when the bonnet was opened, even though there had been no danger to humans before. Our solution was simple but effective: From then on, the bonnet safety switch could be ordered as an option for all our high-voltage equipment.
You can be sure that we will not run out of ideas in the future either: In our development department and in intensive dialogue with our customers, we constantly strive to make our products more effective, safer and more user-friendly. This is what has allowed us to build the long-standing partnerships and trusting relationships that we have today, making ourselves a trusted OEM supplier to numerous car manufacturers such as Citroën, Ford, Kia, VW, Peugeot, Skoda and Seat.

Absatz
In 2010, we moved into our newly-built premises in Oftersheim, near Heidelberg, to enable us to guarantee fast delivery despite the ever increasing demand for our products. This created ideal conditions, allowing us to ensure that all orders received by 4:00 pm leave our premises on the same day and are sent on the way to our customers.
Sophisticated technologies, high product availability and a broad range of models – thanks to an additional warehouse, we can now implement three of our principles even better than before. In the spring of 2017, we held a ground-breaking ceremony for our new warehouse, located right next to K&K's head office in Oftersheim.
The move between the two buildings was completed in 2018. There is now twice as much storage space as before, arranged side by side. And what's more, thanks to the generously-proportioned new workshop, our prototype assembly team is now able to work in better conditions at increased capacity. It all helps us to create the right circumstances for future growth and for turning innovative ideas into
commercially viable products.
Do good – and talk about it
We don't just support our customers with attractive products, we also actively participate in sales and marketing as part of a holistic partnership. This ranges from individual flyer services and tailor-made product presentations to training courses and attending trade fairs. Of course, educating our end customers is also very important to us. There are still many myths about marten defence, which have often led to the well-intentioned but mostly ineffective use of various home remedies.
The K&K family is expanding
The pursuit of innovation and continuous improvement is also a hallmark of our own 'PS-ProfiPflege' brand, which K&K launched in 2011. The spectrum ranges from leather care and high-performance wax to car care especially for women.
What else do our customers need? How can we create more great partnerships? These questions led to the emergence of the young PS brand and its success confirms that we have chosen the correct path. For further information on 'PS-Profipflege', please refer towww.ps-profipflege.de.