News

As a dynamic and active company we keep the marten on its toes– and keep you up to date. Whether it's product development, a trade fair visit or testing results – K&K is constantly on the move. You can find out where our journey is taking us in our news section.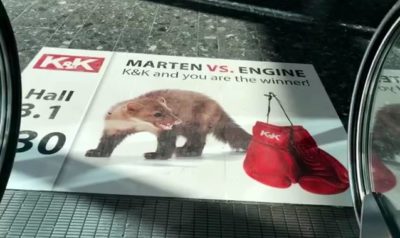 26 September 2018
SUCCESSFUL EXISTENCE AT AUTOMECHANIKA 2018
The Automechanika Frankfurt ended on 15 September after five days with a record attendance at exhibitors and a new area record. In total, around 136,000 trade visitors came from 181 countries. K&K participated for the first time as an exhibitor and used the trade fair for many discussions with interested parties and customers from various countries. The visitors already "stumbled" on entering the hall 3.1 over the cute marten, who unmistakably showed the way to the marten defence experts from Oftersheim at the end of the escalator.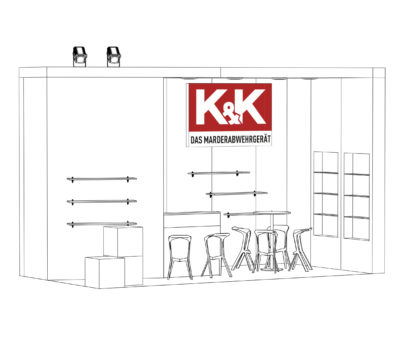 9 April 2018
AUTOMECHANIKA 2018 –
11-15 September in Frankfurt am Main
As one of the leading providers of marten defence products, K&K cannot afford to miss Automechanika.
Automechanika is the largest trade show for after-market products in the automotive sector. K&K will be on site to explain to an international audience what makes a really good marten defence: At this point, it is worth separating the wheat from the chaff. K&K marten defence relies exclusively on proven methods that have been developed to incredible levels of refinement. The result is easy-to-install, innovative products that are unrivalled in their impact. To give just one example, the acknowledged electric fence method has been perfected thanks to unique multi-contact high-voltage brushes with integrated positive and negative poles. They run through the thick fur of the marten like a comb and give it an instructive but harmless shock. By contrast, comparable products rely on contact with exposed parts of the body such as the snout or the paw. In addition, the animal often has to touch a conductive part of the engine. This is not necessary with K&K devices either. An additional 360° ultrasound speaker produces pulsating sine wave which is unpleasant for the marten, providing extra protection. Unlike cheaper products, it prevents the habituation effect that is often wrongly attributed to ultrasound defence in general.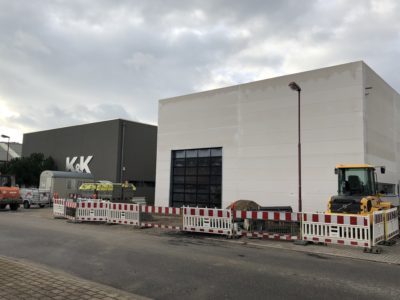 29 October 2017
WE ARE DOUBLING OUR WAREHOUSE SPACE
New hall completed
Sophisticated technologies, high product availability and a broad range of models – with an additional warehouse, we can now implement three of our principles even better than before. In the spring of 2017, we held a ground-breaking ceremony for our new warehouse, located right next to K&K's head office in Oftersheim.
. The move between the two buildings, which are now located side-by-side, was completed at the end of August. There is now twice as much storage space as before. And what's more, thanks to the generously-proportioned new workshop, our prototype assembly team is now able to work in better conditions at increased capacity. It all helps us to create the right circumstances for future growth and for turning innovative ideas into commercially viable products.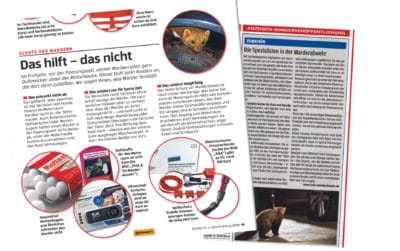 12 April 2018
AUTO MOTOR UND SPORT
The right protection against martens is under constant discussion in the press – just like our products from K&K. The magazine 'Auto Motor und Sport' wrote about this in their latest special feature 'Fit in den Frühling' ('Fit in the Spring').
Being one of the oldest companies in marten defence as well as the most innovative, we enjoy great confidence among both consumers and the press. Just this March, 'auto motor und sport' magazine introduced two of our devices in its special supplement called 'Fit in the spring'. This was where our huge range of products came into play, ranging from cheap but effective entry-level equipment to high-end solutions that can handle even the most aggressive martens. In September 2017, AUTO BILD reported on some of our high-tech features such as the unique multi-contact high-voltage brushes, and soon afterwards its sister magazine AUTO BILD ALLRAD ran a prize draw for of one of our flagship devices. Also in the autumn, AUTO BILD REISEMOBIL reported on the fact that motorhome owners in particular appreciate effective protection against martens because of the length of time their vehicles stand idle. The magazine REISEMOBIL INTERNATIONAL tested our M9700 battery-powered model in its October issue and praised its many positive features.
1 February 2018
COMMUNICATION IS IMPORTANT TO US
Cable spaghettiat K&K? What any marten would see as an oversized plate of spaghetti are actually the 'synapses' of our 'nerve centre' in the new K&K building.