Sale!
We increase the economic boost by reducing VAT and add something additionally!
M4700
The COMPLETE marten-repellent device
If you want to be prepared for everything a marten can throw at you, take a closer look at the M4700. The combination of IP 65-compliant , 100% waterproof, 360° ultrasound defence and adjustable contact plates, together with automatic activation means it is suitable for all generations of engines. The loudspeakers can also be strategically placed in the lower part of the engine compartment, which is prone to splashing water, because they are particularly effective there. The plates are adjustable, allowing them to be attached to the entrance points even more flexible. The speakers, multi-pin plug and safety switch are fitted deep in the device and are fully waterproof. If an animal still manages to penetrate into the engine compartment, the 6 high-voltage contact plates will protect the vehicle against the intruder. Of course, the electric shock does not hurt the animal - it just drives it away. The new automatically activated power switch triggers the device independently after the vehicle has been parked. The 2-pole connection makes installation quick and easy.
Product features
High voltage (electric fence principle) "Those who cannot hear must feel!" Older martens (with impaired hearing) or very aggressive animals (territory battles) can sometimes only be driven off by electric shocks.

Pulsating sine ultrasound Our marten-scarers mimic the warning calls of the animals in a very loud and highly lifelike way. This serves to prevent the habituation effect.

Waterproof 2.0 Fully sealed, waterproof electronics in accordance with the IP 65 standard and (for devices with ultrasound) a fully enclosed speaker allow the device to be installed low down, including in areas where there may be splashing water. Even washing the engine is not a problem.

All-around ultrasonic radiation The dome speaker emits sound waves over 360° and in all directions. This prevents acoustic shadows from forming and provides all-round protection against martens!

shortened installation time due to automatic activation The innovative automatic voltage circuit automatically starts the device as soon as the engine is switched off. The complicated connection to vehicle terminal 15 is now no longer necessary.

Battery monitor In addition to low power consumption, the high-voltage devices have an integrated battery monitor that cuts in when the car battery voltage is too low and switches off the unit to protect against complete discharge.

Multi-pin plug Separating the control unit and cable harness using a multi-pin plug means the control unit can be replaced without the need for time-consuming complete removal. Multi-pin plugs for waterproof devices are similarly waterproof.

Soft-Start K&K devices start up slowly using an intelligent soft-start circuit, and operate at a very low level of power consumption. Even the latest, highly-sensitive on-board computers do not identify our devices as power consumers. In contrast to devices with a 'hard' startup system and current pulses up to 25 mA, K&K will not generate error messages, even with the latest generation of engines.

CAN bus The electronics of modern vehicles communicate internally via a so-called CAN bus. Even in this environment, our devices can operate without any difficulty.

Hybrid-compatible Our devices can also be easily installed in hybrid vehicles.

e1 mark The e-1 sign confirms that the device has been tested by the Federal Motor Transport Authority (KBA).

Acid-proof, self-extinguishing plastic The device is resistant to acids (e.g. batteries or cleaning agents) and the plastic used meets automotive industry safety standards.
Technical data
| | |
| --- | --- |
| Wave shape | Sine, mimics the warning call of predators in a very lifelike way |
| Ultrasound frequency | |
| Sound pressure in dB | |
| Radiation | |
| High voltage | |
| High-voltage contact plates | |
| Multi-contact brushes | |
| Adjustable/extendable | |
| Circuit | |
| Bonnet safety switch | |
| Battery monitor | |
| Multi-pin plug | |
| Soft-Start | |
| Seals | |
| Operating voltage | |
| average power consumption | |
| Operating temperature range | |
| Function display | |
| CAN bus and hybrid compatible | |
| Federal Motor Vehicle Authority (KBA) e1 approved | |
| Acid-proof, self-extinguishing plastic | |
Installation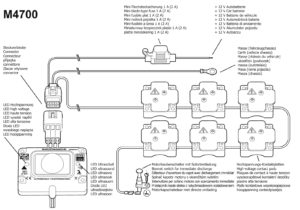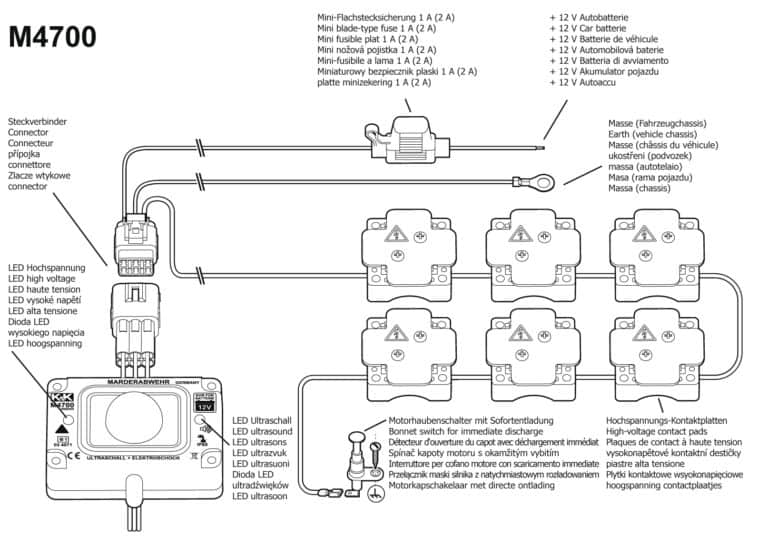 Das Grundgerät wird an einer Stelle im Auto montiert, wo es nicht zu heiß wird und von wo aus die Ultraschalltöne frei strahlen können. Durch die Wasserdichtigkeit kann das auch an tiefliegenden Stellen erfolgen. Das Pluskabel mit dem eingebauten Sicherungshalter kommt an "+ 12 V". Das Massekabel kommt an die Fahrzeugmasse oder "- 12 V". Das Hochspannungskabel wird so im Motorraum verlegt, dass die Kontaktplatten an den bissgefährdeten Stellen montiert werden können. Die Kontaktplatten werden mit zwei Schrauben auf dem Plastikhalter befestigt. Durch das Eindrehen der Schrauben wird das Hochspannungskabel "angezapft" und der Kontakt ist hergestellt. Die Plastikhalter sind verschiebbar auf dem Hochspannungskabel und können an beliebiger Stelle fixiert werden. HINWEIS: Ultraschall ist für Menschen nicht hörbar. Die Funktionsfähigkeit wird durch die blinkende LED angezeigt. Weitere Hinweise entnehmen Sie bitte dem Einbau-PDF!
Additional documentation